The Complete Price Guide to Watches

THE NEW EDITION IS HERE!

36th Edition

Call 1-800-424-5353 to order your copy today!

$29.95 + S&H
United States add $10.00

OVER 10,350 WATCHES LISTED

OVER 7,850 ILLUSTRATIONS

AMERICAN POCKET WATCHES

EUROPEAN POCKET WATCHES

AMERICAN & EUROPEAN WRIST WATCHES

COMIC & CHARACTER WATCHES

CURRENT INFORMATION, IDENTIFICATION

TIPS, HISTORY, TERMINOLOGY
The most reliable and convenient guide to watches available, the Complete Price Guide To Watches is a mini encyclopedia with over 10,000 watches priced and over 8,000 images provided for education and identification. This book is the definitive guide for all levels of watch education and collection. From the amateur collector to the most prestigious auction houses, The Complete Price Guide To Watches has something for everyone.
Every year there are thousands of price changes and this year is no exception. The Complete Price Guide To Watches contains the most up to date information on American and European pocket watches and wrist watches, Comic and Character watches including pricing, identification information, tips, history, terminology and the annual market report. This book provides not only accurate pricing information on a plethora of watches, but also provides historical information on a myriad of watchmakers, including birth and death dates, company histories, movement identification, serial numbers, grade numbers, production dates and quantities. The guide also has dedicated illustrated entries on how a watch works, watch parts nomenclature, the individual parts of a watch movement, how to properly open a pocket watch case and care for your watch, Railroad watch dials, cases and adjustments, how to determine the age and manufacturer of a watch and how watches are appraised. All of this information is accented by antique illustrations salvaged and lovingly reproduced from long lost watch catalogs, advertisements and brochures. It is because of this attention to detail that the Complete Price Guide To Watches has attained its near legendary status as the only true Bible of watch prices, history and education currently in print.
There is no other book on watches this thorough on the market today. Before you buy or sell any wrist or pocket watch, be sure to buy The Complete Price Guide To Watches.
In its 1200+ pages, the 33rd edition of Complete Price Guide to Watches maintains its matchless standard with watch price listings. Who can top its entries for more than 10,000 American and European pocket watches and wrist watches; not to mention its 8,000 illustrations? In addition to all its current, accurate value listings, this reliable paperback provides a virtual course in watch-making history, manufacture, and operation. One trustworthy timepiece.
Meet the Author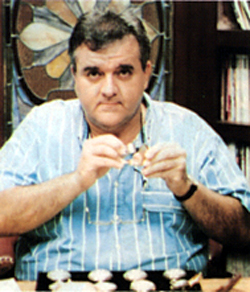 Richard E. Gilbert was born in Abilene Kansas in 1944. He has been a horologist for over 40 years and is a lifetime member of the NAWCC. In addition to his Bachelors and Masters degrees in Science, Mr. Gilbert trained under three European watch and clock experts from 1962 to 1971. He has co-authored the Complete Price Guide To Watches since 1992. He is also the co-author of the Price Guide To Antique Jewelry.
Mr. Gilbert established Ashland Investments in 1961. Ashland Investments has grown to become one of the world's largest antique watch dealers with both a national and international clientele of watch collectors. Ashland is proud to claim the world's largest inventory of collectors' pocket and wrist watches. Mr. Gilbert annually sets the market prices for watches outside of the auction arena, handles numerous watch and jewelry estates throughout the country and prepares numerous trust appraisals.
Mr. Gilbert is a well recognized figure at the finest auctions in Europe where his expertise is undisputed. He is also sought after lecturer. His most current lecture was delivered in Torquay England entitled "The Patek Phillipe Wristwatch". Mr. Gilbert currently resides in Sarasota, FL, with his wife of over 40 years, Joanne.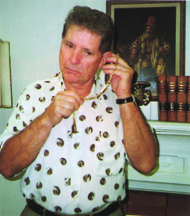 Tom Engle was born in Louisville, Kentucky in 1934. He has co-authored the Complete Price Guide To Watches since the second edition in 1982. He is a lifetime Fellow member of the NAWCC and member since 1974. Mr. Engle has been a horologist for over 45 years and has regularly attended NAWCC regional shows throughout the United States during that time. He has visited and studied at numerous horological institutes, museums and watch factories throughout Europe. Mr. Engle continues to hone his horological education through his persistent attention to monitoring both national and international auctions, eBay sales trends, NAWCC watch meets and through his dealing with knowledgeable watch dealers and collectors. It is through this extensive experience and prowess that he co-authors the Complete Price Guide to Watches.
Over 30 years ago, Mr. Engle produced the very first full color photography based catalog of watches known in the United States. It was through the success of this catalog that Mr. Engle and Mr. Gilbert began their working relationship, which continues to thrive to this day. Mr. Engle experiences great enjoyment, pleasure and both personal and professional satisfaction in buying, selling and collecting watches and humbly attributes his horological expertise, at least in part, to the NAWCC. Mr. Engle currently resides in Louisville, KY with his wife of over 50 years, Joyce.

Richard M. Gilbert
Mr. Gilbert received his BA in Business Administration and Management from Flagler College. He spent his college summers in the offices of Ashland Investments apprenticing under numerous highly skilled watch makers. He officially began his full time career with Ashland Investments in 2003, where he is presently employed today. While working for Ashland, Mr. Gilbert established Richard M. Gilbert Enterprises in 2004. He attends watch auctions in both Europe and the United States and has been an active member of the NAWCC since 2004.