ABOUT US
CODE OF ETHICS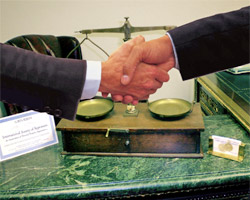 Ashland is proud of its reputation as a trusted dealer in antique timepieces. Our customers trust and respect is paramount to the success of our business and to that end we constantly strive to exceed your expectations by adhering to the guidelines listed below:
Ashland Is committed to its customers satisfaction.
Clearly, honestly and accurately represents its products, service, terms and conditions.
Delivers its products and services as represented.
Communicates in a respectful and courteous manner.
Responds to inquiries in a constructive timely way.
Maintains appropriate security policies and practices to safeguard customer's information.
Offers a free 7 day return policy for watches or jewelry, if ever misdescribed.
Does not allow customers personally identifiable information to be transferred or shared with any outside organizations or individuals.
Honors requests not to receive further solicitations from Ashland.
Follows the spirit of the law and all applicable guidelines for ethical business practices.